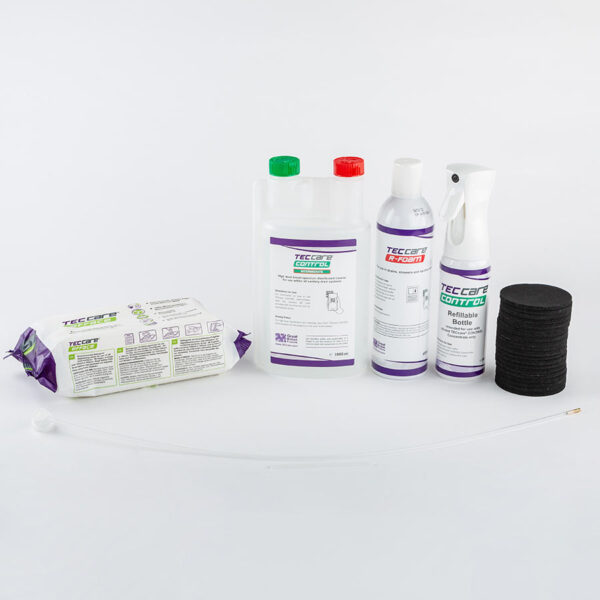 The TECcare R-Foam drain disinfection kit features a controlled and specially formulated rheopectic foam (hence R-Foam) which is applied into the U-bend/trap, replacing the water with a foam barrier that prevents bacteria re-entering the sink and with the Control fluid destroys the biofilm and its pathogens, allowing it to flush away.
Simple to use and administer and this will assist you with ensuring your plan for BS8580-2 Water quality – Part 2 – Risk assessments for Pseudomonas aeruginosa and other waterborne pathogens is backed up with technology that works.
The TECcare R-Foam drain disinfection kit comprises of a 1 litre TECcare CONTROL Intermediate fluid, a high level broad spectrum disinfectant cleaner which is used as a concentrate and poured directly down the drain to loosen biofilm and destroy pathogens in the U-bend. It is also used in a diluted mixture in the supplied NAP sprayer provided to clean sanitary ware surfaces. The kit contains a pack of the new TECcare EFFACE wipes, a long foam dosing tube and 20 neoprene sink drain seals.
The TECcare R-Foam drain disinfection kit is simple to use and, as well as protecting patients and healthcare workers, it prolongs the life of the drainage system and ensures the continuous availability of your sanitary ware and associated pipework in the plumbing system.
The TECcare R-Foam drain disinfection kit can be used for deep cleaning your drainage system as well as for routine cleaning. Swabs can be taken to determine the contamination levels of the drain.
This should be done by somebody trained in aseptic sampling techniques. The frequency of routine cleaning depends on how dirty the drain was in the first instance, but the aim is only to routinely clean the drain on a weekly basis. If the drain remains clean in between weekly cleans as evidenced by interim swabbing, then the frequency of cleaning can be extended to fortnightly.
This system can also be utilised for shower heads and shower tray drains.
Instructions for use are contained in the box.
R-Foam will achieve the following benefits:
Compliance with BS8580-2
Reducing blocking drains (and associated costs)
Contributing to ESG commitments
Less wastewater pipe replacements
Fewer outbreaks
Reduction in plume infections
About TECcare
TECcare® manufactures world-class anti-microbials using highly advanced chemistry that passes all efficacy testing whilst remaining safe for users in any environment.
TECcare® uses its proprietary adjuvant to turbo-boost very low levels of chemicals to become powerful, fast acting, long lasting disinfectants.
All TECCare® technologies have been tested and assessed as Non-toxic, Non-irritant, Non-corrosive, and Food-safe anti-microbials.
Areas of use
TECcare unique Antimicrobial Technologies provide a competitive edge to cleaning and disinfection in any area of use. Perfect for any application environment including:
Fleet
Agriculture
Catering / Food prep
Domestic (cleaning / Pets)
Education
Healthcare
Hotels
Laundry
Petro-Chemicals
Pharmaceutical
Travel (trains, planes, cruise)
Vets
Water systems / water treatment
Directions for Use in Urinals
Prepare the area by spraying Control on all surfaces liberally
Wipe around the outside and inside of the urinal with Control wipes
Flush urinals through with clean water prior to applying a dose of ULTRA
Feed the pipe through a neoprene pad
Feed the pipe down the urinal, pressing the pad into the plug to create a seal
Press the R-Foam canister for 2 seconds. Wait 5 seconds. Repeat
Pull pipe out of the urinal and wipe the pipe with a Control wipe
Use a P-Wave Slant 6 in the urinal to prevent objects being spat or dropped into urinal and also to prevent splashback